As most of you know, Bailey has quite the personality!  She is a little bit crazy (okay, a lot crazy), goofy and incredibly sweet all rolled into one.  We love her so much and she keeps us (mostly) sane.  One morning a few weeks ago, I woke up to find this: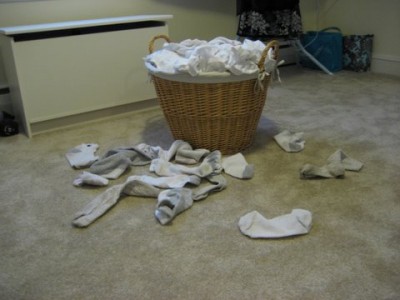 I was none too pleased, seeing as the laundry was clean, but I suppose I shouldn't have left it on the floor in the first place!  I went downstairs to confront the little nugget and see what further damage she had done, and found her happily chewing on one of my sports bras.  She pranced over to me to show me her "prize" and I just didn't have the heart to get mad at her.  She was so proud of herself!  I would love to know what goes through her mind … it cracks me up that she threw all the socks on the floor (apparently they just weren't good enough), and why the laundry has such appeal is beyond me, but we thank God every day that Miss B makes us smile and laugh and reminds us to enjoy the simple things in life!
We also want to say congratulations to proud new parents Amanda and Nick!!  Antonia Maya made her fashionably late entrance into the world Saturday, January 17, weighing in at 7 lbs 5 oz, complete with a full head of hair.  She is a cutie and we're looking forward to meeting her!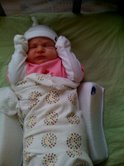 Our own precious angel remains overwhelmed (as do her parents) at the love and support she continues to receive!  We're so grateful to everyone who's been so kind to us … this is certainly a challenging time, but knowing we are not alone is so comforting.  We have another ultrasound the first week of February and cannot wait to see our little girl again.  I think I'm starting to feel her move, which is absolutely amazing and words can't describe how special it is … the little flutters are something I treasure, and know I'll hold close to my heart forever … we "talk" every day and I love it.  I love knowing that for the time being, she is safe with me … if only I could keep her that way forever, I would.