We kicked off summer with a trip to the Cape to visit Nana, Grampa and Auntie Liz this weekend. Pete loved exploring his new surroundings and playing with all sorts of new toys and tupperware – his current favorite toy!
On Sunday, we went to Aunt Pam and Uncle Steve's house for a cookout.  All the Cundall clan was there which meant that Pete got to hang out with his cousin Gracie.  Grace is exactly two months older than Pete, so it was pretty cute watching them together!  The two of them have the bluest eyes and are just adorable.  We played for awhile and then went for a ride around Hyannis Harbor on Steve's new boat.  It was a gorgeous day and we had so much fun watching Pete experience his first boat ride.  He was a bit skeptical at first, but was smiling and dancing by the end of the ride: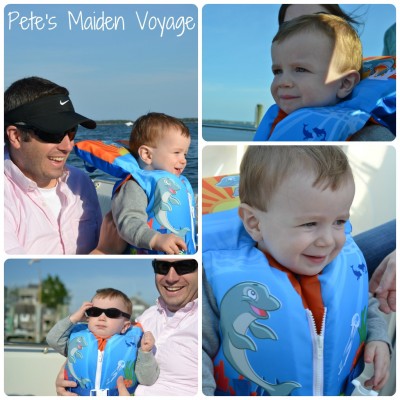 Pete was doted on all afternoon and it was such a treat getting to see him loved on by his family.  He and Gracie made us smile and laugh all day.  And despite being awake long past bedtime, they were happy and content to just play and be adored.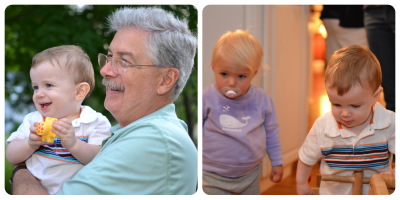 After a much needed good night's sleep, Pete got to play on his new swing at Nana and Grampa's house.  He wasn't quite sure what to make of it at first, but very quickly figured out how fun it was!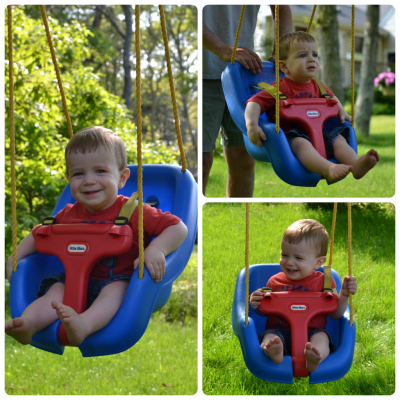 We had such a great weekend, but it went by way too fast.  We didn't even make it to the beach, so that's on the agenda for next time.  We already can't wait for our next visit!