I can't believe Christmas has come and gone!  It has been a fun (and busy) few weeks!
We are very lucky and get to see both sides of our family at the holidays.  We spent Christmas Eve with Nana, Bumpa and Lizzie and then saw most of the Quinn clan after church at Nana Q's condo.  Pete was spoiled rotten!!  I think he was exhausted just from opening presents and playing with all his new loot.  We have been really bad at taking pictures the past several months, but here are a few we did get!
Someone had trouble containing his excitement during lunch at Nana and Bump's before opening presents: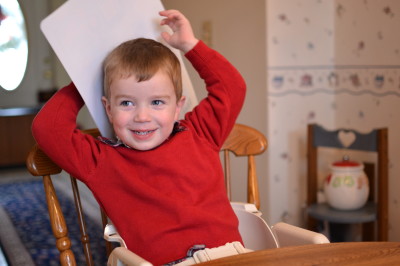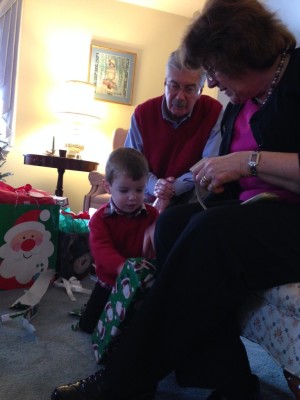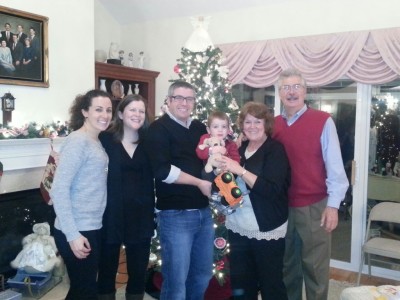 We woke up Christmas Day excited to watch Pete discover that Santa came.  He didn't disappoint.  It was so fun to watch him realize that the presents in the living room and under the tree were for him!  His little eyes lit up when he saw his new tool bench and he immediately got to work building and playing.  He had to be reminded that there were other presents to open. Every time he opened anything, all he wanted to do was play with it immediately.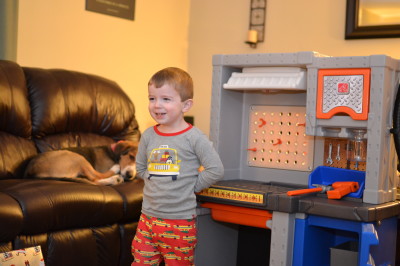 After presents and breakfast, we headed to Bana and Birdie's for the rest of Christmas Day where Pete was again spoiled rotten – and we again failed to take many pictures, oops.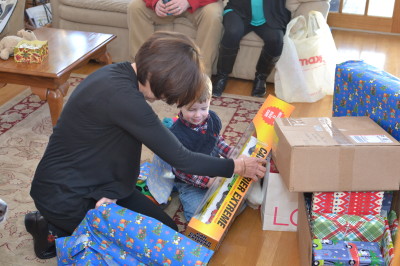 We had a great couple of days with our families and it's hard to believe that another Christmas is behind us.  This time of year is always bittersweet for us and while Brienna is never far from our thoughts and hearts, rediscovering the magic of Christmas through Pete has been more amazing than we ever thought possible. As Pat said on Christmas Eve, I hope every Christmas is as awesome as this one 🙂