James is ONE. How that is possible is beyond me. I feel like he was just born and yet I cannot imagine life without him either. This year absolutely flew by!
James is pretty much the best. He walks/runs everywhere, and loves his newfound independence! He is such a happy kid, loves his big brother and we adore him 🙂
We celebrated James's birthday with our families, and I think he quite liked being the center of attention. He had cake Friday night at my parents house for the first time, and loved it. He was slightly skeptical at first, but once he figured out what it was, he dove right in. His birthday party on Saturday was a The Very Hungry Caterpillar theme, because it just seemed so appropriate given his love of food!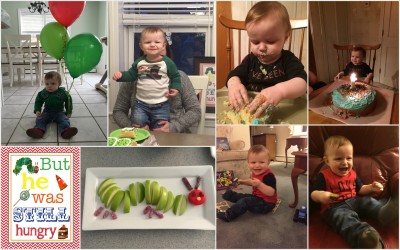 James had his one-year doctor's appointment today and weighed in at 21 lbs. 8 oz. and is 30″ tall, which puts  him right at the 50th percentile – I'm thinking that maybe his height at 9 months was off! We just love our little Jumbo Jimbo and can't wait to see what's in store for his second year!