Pete is five months old!  No doctor's appointment this month, so no official stats to report, but he continues to amaze me on a daily basis. Pete babbles, smiles, laughs, rolls over and seems pretty close to sitting up on his own.  He kicks his legs like crazy when he's excited, he squirms all over the place (he is strong!) and is just a curious, happy little guy. He doesn't want to miss a thing and it's pretty darn adorable.  He grows more enthralled with Bailey every day, and has figured out that he can grab her fur when she's close to him – which is all the time since she doesn't let him out of her sight – note the paw in the bottom right corner of the picture below: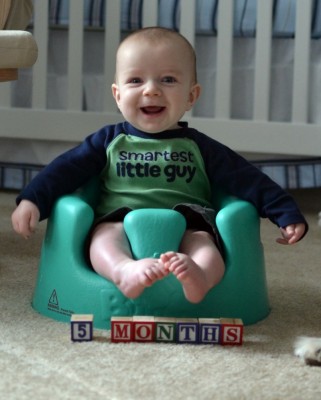 Here are some pictures from his visit to Nana Quinn's last week.  The poor guy had his first cold and wasn't totally himself, but we still had a fun visit:

As my mom said, Pete on a "bad" day is still awesome. I couldn't agree more. He makes me so happy and I can't believe that he's already five months old!