Pete went to visit Auntie Liz at work today.  Liz works at Harvard, so after we 'pahked the cah in Hahvahd yahd' (literally) we made our way to see Liz's office.  Pete was quite the little celebrity and it was pretty awesome that so many people recognized him.  I think his aunt likes him.  When we got to Liz's desk, Pete saw the picture of himself on the monitor and said very excitedly, "baby!"  Here he is hard at work at Liz's desk: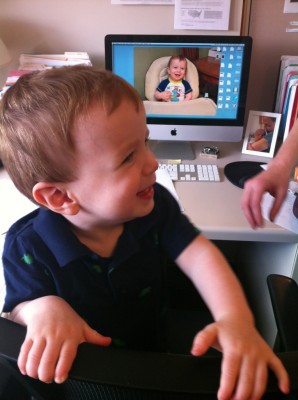 One of Liz's coworkers, Dayna has a niece Pete's age. We've heard lots about Ayla and finally got to meet her and her family today!  She just turned one and is adorable.  It's always fun to see Pete with kids his age.  He went right for her shoes and tried to take them off, it was very cute.  We had lunch in the sunken garden and while Ayla sat quietly reading her book, Pete had to be contained.  There was a fountain nearby (he kept asking if it was a bath) and knowing Pete, I think he would have tried to climb right in.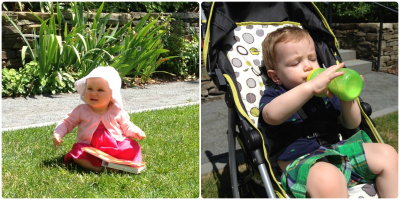 After checking out the Curious George store, we went to Starbucks for an afternoon treat.   Mrs. Johnson managed to get a shot of the whole group (Ayla and her Aunt Laura with Pete and I on the left, then Dayna & Ayla, Ayla's mom Erika, Laura, Pete & I and Liz on the right):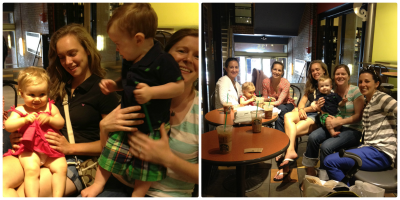 We had a very fun afternoon in Cambridge.  Every time I'm there, I wish we could spend more time checking out all the cool shops in Harvard Square.  There's so much to see and do and it was just a perfect day.  Thanks again to Auntie Liz for having us; we can't wait to come back again soon!