Pete's had a great St. Patrick's Day weekend!  We went to a parade yesterday, which he loved.  There were endless fire trucks, police cars and boats.  There was great music, lots of dancing and it was just a fun day. Pete watched most of the action atop Dada's shoulders.  It was pretty cute watching him dance and exclaim "another one" every time he saw a fire truck or police car.  He was tuckered out by the end, and almost fall asleep in my arms.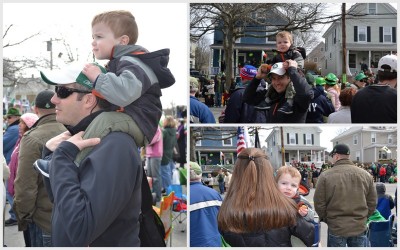 Pete's a lucky little Irishman and got some new St. Paddy's Day clothes from ShayKay's parents, Una and Padraig.  We love them!  He wore one of his new shirts to school on Friday and got so many compliments.  The scally cap is from Ireland too (a gift from Shay and Kris when they were there for Christmas) but he likes throwing it off his head more than he likes wearing it.  He looks so cute in it though, and I can't wait for him to like wearing it.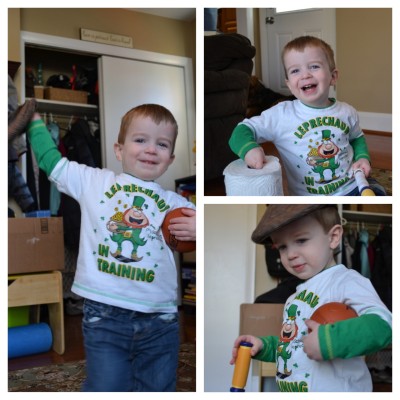 We went to an Irish pub this afternoon to watch some Irish step dancing.  Pete loved it.  Every time the kids finished, he would say "again! again!".  He danced to the Irish music and had such rosy red cheeks – if I didn't know better, I'd swear he'd been drinking!  He even scored this green hat: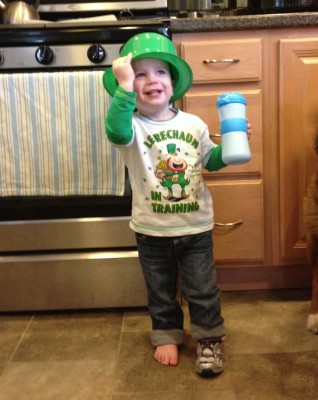 From our mischievous little leprechaun to yours, Happy St. Patrick's Day!