December has been a pretty good month so far!  We are eagerly anticipating Christmas, but have had a lot of fun getting everything ready at home. 'Tis the season of baking and Pete loves to help me bake, so he's been very happy these last few days!  On Thursday, we made sugar cookies for his teachers.  He rolled out the dough and cut the cookies and when I tried to take his picture, he gave me this look and told me he was "too busy":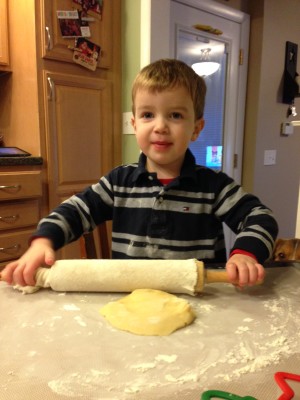 He cracks me up.  After watching the cookies bake (he's actually quite patient), we got to the fun part: decorating.  Some of those cookies were aggressively sprinkled, but they were all him and he was so proud to give them to his teachers on Friday.  He handed them their little gift bags and proclaimed that he made the cookies "myself".
We made dog biscuits today and he thought that was just the funniest thing. The dough was less than ideal to work with, and kept getting stuck to the rolling pin and rather than get frustrated (like I would have/did) he just laughed and laughed:
His joy is just so pure and innocent.  It's certainly easier to bake solo, but doing it with him forces me to give up my OCD tendencies and just enjoy the experience of doing something fun together.  And that alone is worth it's weight in gold 🙂
Merry almost Christmas!