Our precious daughter, Brienna Marie Marr, was born into Heaven last night June 2, 2009 at 8:50 PM.  She was quite simply, the most beautiful baby we have ever laid eyes on.  There are no words to describe how deeply she is loved and how much she is already missed. Her time with us was truly a gift that we will cherish forever.  Her name is Celtic and means "strong, she ascends".  There is no better name than that for our amazing baby girl.
We thank you as always for your love and support.  It means the world to us.  Brienna only knew love, and for that, we're very grateful.
Love,
Patrick, Laurie and Brienna
UPDATE:
We cannot thank you enough for all the calls, text messages, emails and comments on the blog. We feel so blessed to have the unyielding love and support of our friends and families …
We were very lucky yesterday to have Sharon (from NILMDTS) photograph our beautiful daughter just moments after her birth. Sharon is an amazing person and we continue to be awed by her compassion and generosity.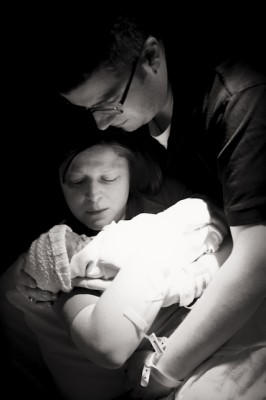 There will be more pictures to come, but we wanted to share one with you now.  Brienna was truly the most perfect baby.  We will write more about our experience meeting her, but felt everyone should get to see how cute she really is!

(You can see some of our maternity pictures here.)