Three years ago today, the world lost one of the good guys.  My cousin Erin's boyfriend Dan was killed in a tragic car accident.  We had just returned home from one of the best vacations of my life – a family reunion in Ireland – and his death shocked us all to our core.  Dan was more than Erin's boyfriend.  He fit in our family as if he'd been there all along, and in Ireland, he asked my uncle Kevin for permission to marry Erin, which we were all ecstatic about!   He was just one of those people that lit up a room and I think of him all the time: anytime I drink a Guinness, see an F-150 or a guy wearing a bright orange shirt. I think of him when I see a guy talking excitedly about the Yankees or golf or when I see a big teddy bear of a guy laughing out loud.  Dan was always smiling and always laughing and left such a mark on me that it's impossible not to think about him.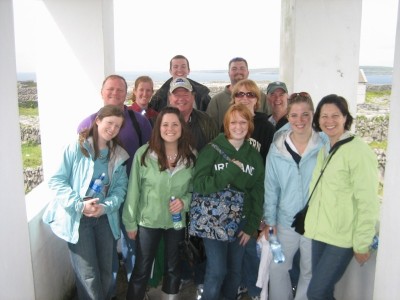 There are different people in Heaven that I think take care of Brienna in different ways.  When I think of who she runs to if she's needs a big bear hug, I think of Dan. When I think of who makes her laugh, I know it's Dan. I know that they are up there together and it comforts me, while making me sad at the same time.  They should be here.
My cousin Erin is a strong lady … she has been such a source of strength and inspiration for me and she continues to amaze me every day.  I remember bewilderedly asking her how she survived every day.  Her grief, pain and suffering were just incomprehensible to me.  She told me that she realized she had to make a choice.  She could choose to live, or she could choose to be miserable.  So she chose to live.  When Brienna died, those words stuck with me, and I think about them every day as I get out of bed. It truly is a choice.  It would be so easy to be bitter and miserable (and there are those days) but the choice to live a life that makes them proud is more alluring.
I miss Dan.  I cry when I think about him not being here.  I cry for Erin, and for his parents, Brian and Kathy and his brother Tim and then I cry for Brienna too.  At some point though, I'm able to smile, because I know he's keeping Brienna safe and they are watching over all of us; our guardian angels …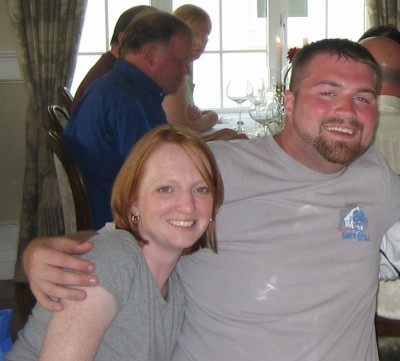 Miss you, DJJ.