We had our 32 week ultrasound this week and our little munchkin is looking good if I do say so myself!  We hadn't seen him/her in over 12 weeks, so we were very much looking forward to this ultrasound.  The munchkin is growing like a weed, weighing in at about 4 lbs 3 oz!  Brienna was only 4 lbs 14 oz when she was born, so it's hard to believe they're almost the same size already.  Pat was 9 lbs 8 oz when he was born, but my doctor assured us the munchkin won't be that big, much to my relief! Here's our favorite picture from the ultrasound: it's his/her nose and lips but we have no idea where the Angelina Jolie lips came from!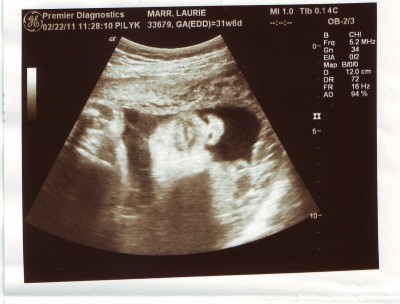 We spent the weekend in Madison, WI protesting visiting my brother Tim and his family and getting some baby practice with their newest addition, Lena Teresa.  She's just over 4 months old and we absolutely loved her!  Her smile makes you want to melt and despite our best efforts to take her home with us, Tim and Jenny insisted she stay with them.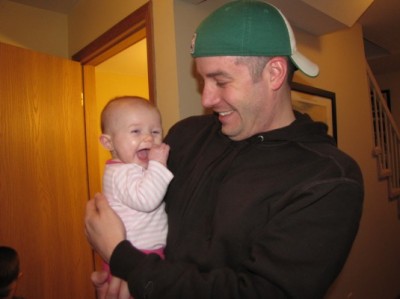 Her big brothers Quinn and Reece are pretty darn cute too and we had a great visit.  We're hoping to see them all again soon … hopefully sometime after April when they can meet their newest cousin.
Let the countdown begin!